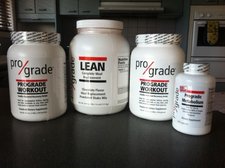 Yippee! My Prograde products finally arrived and I was pleasantly surprised at how quickly, considering they were posted from the States!
What was even more surprising was the taste!
My Prograde Lean is a meal replacement shake, and it's chocolate flavoured and kind of tastes like a dark chocolate shake. Yummy!
The Prograde Workout is vanilla flavoured and I could not get enough of it! I was in vanilla heaven! 😛
Yummo!
And finally, the Prograde Metabolism is amazing! I have never felt so energetic! It's supposed to take a few weeks to really kick in and boost the fat loss, but I can definitely feel the increase in my energy levels, which of course is great!
So if you're looking for some great products that taste great and WORK (see the Fit Yummy Mummy program – these products are used by most women who join the program and have experienced AMAZING results), visit http://overweightandunhappy.getprograde.com
Now I have absolutely NO excuses not to stick with this…. 😉