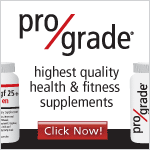 Woohoo! I just purchsed some Prograde products for a massive 15% discount, and I just checked and it looks like they're still on sale!
I bought:
2 x Prograde Workout (for my pre and post workout drinks)
1 x Prograde Lean (for meal replacement)
1 x Prograde Metabolism (to massively boost my results)
So if you would like to purchase any of these products, get in quick before this sale ends!
The coupon code for the discount is BABY15.