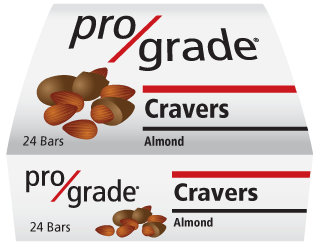 If you're guilty of caving in to your chocolate cravings, feel guilty no more!  With ZERO trans fats and with less than 200 calories, ProGrade Cravers are the perfect snack.
ProGrade Cravers are made with organic dark chocolate and are perfect and safe for both children and adults alike.
They come in three flavours – Peanut butter, Almond  butter and Spirulina.
Want to know more?  Download the nutritional fact sheet HERE or visit http://overweightandunhappy.getprograde.com/nutritional-bars.html
Note: I am a Prograde Partner so benefit from any sales of their products via my website and email promotions.