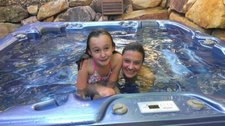 So that's what I have to do… I have to promise my daughter we'll relax in the hot tub after my workout, for me to actually do my workout.
Honestly, it takes all of 15 minutes to complete – I really have no excuses!
If I team all of this with clean eating, then I'm expecting to burn off some excess fat in no time! Woohoo!
The pic here is of my daughter and I in the hot tub two weeks ago – we always enjoy sitting back and relaxing in there… 🙂