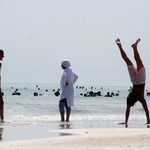 Day 6 it is!
On Saturday morning my husband and I went for a ride.  We rode for a little over 13km and we averaged 24km per hour.  We did this in around 34 minutes.
It's not an ideal time, but hey – we're only in week 1!
On Sunday I swam 300m and did terribly!  I had to stop half way and ask Jason to go and get me my asthma puffer!  I was stuffed afterwards!
This morning I did strength and cardio and it was HARD!!
I did another 300m swim tonight and it was a LOT easier than yesterday, so I'm pretty chuffed with that!
Tomorrow is running with my two Italian work friends! 🙂