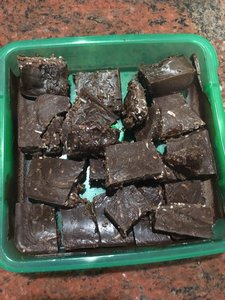 So… what do you do when you're in week 1 of your JPT program and you're craving chocolate?
You could always go and buy some chocolate, but that will undo all of the good you've done, right?
So last night I attempted to make some healthy, clean coconut rough, and this pic is the result! Looks good huh?
My daughter tried a little and when I asked her if she liked it, she replied, "Can I have some more?" So yeah… she likes it!
Want to know how you can get your hands on this, and many other healthy recipes, as a part of this program? Comment "Me" below or Contact Me.